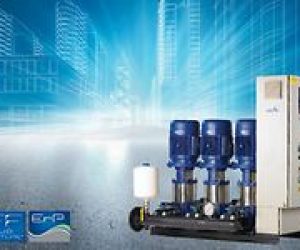 Applications: Residential buildings Hospitals Commercial buildings Hotels Fire fighting applications Airports Sports complex
Made with the robust and proven German technology, fully automatic pressure boosting units are available in three variants – Kt, Vt & VPt. Systems can be built with 2 to 6 vertical high pressure pumps and fully electronic control of the required supply pressure with two standard volt-free contacts for fault indication. Suitable for residential buildings, hospitals, office buildings, hotels, departmental stores etc.
• Fully automatic, user friendly hydropneumatic system.
• Energy efficiency – exceeds European Efficiency Value (MEI) for ErP (Energy Relating Products).
• Factory built system by KSB.
• BMS compatibility with Modbus ( RS 485) / Profibus / Lonbus / Bacnet etc.
• Siemens switchgears for reliable operation.
• Siemens / Danfoss VFD.
• Isolation transformer for controller.
• Controller power supply through dedicated SMPS.
• Input choke for VFD protection.
• Standard single phase protection.
• Standard phase reversal protection.
• Pump, header & valves designed for 16 bar rating.
• Standard maintenance-friendly easy access mechanical seal.

Operating Data (Standard Design)
Capacity Q : Up to 660 m3 /hr.
Head H : Up to 160 m
Temperature : -20 deg C to +160 deg C
Discharge pressure : 10 & 16 bar
Supply voltage : 3 Phase, 415 Volts, 50 Hz
Drive : 2 Pole electric motor
(Higher pressure and flows are available on request)
Pump
Suction/Discharge casing : CI / Stainless Steel
Hydraulic System : Stainless Steel
Mechanical Seal : EN 12756
Spring loaded ring : Silicon Carbide
Seat Ring : Hard Carbon
Elastomers : EPDM
Hydraulic components
Manifolds : MS CED (Cataphoresis) or Galvanised
Valves
Ball Valve : Brass
Butterfly valve : MS/CI
Non return Valve : Brass / SS / CI